The "Spelling Bee" is a contest, which was born in the United States, in which participants must spell a series of words in English with a varied level of difficulty. The exact date on which it began is unknown, but references to 1808 have been found. Now it takes place around the world.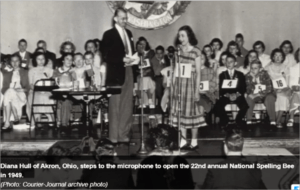 Scripps National Spelling Bee is the most important and oldest contest in the North American country. Since its first version in 1925, it has earned a place in American culture so much, so since 2006, the national finals have been broadcast live on television networks.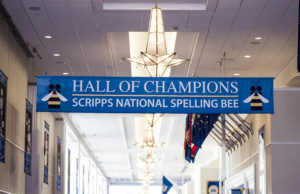 If you're wondering how "bee" got together with "spelling" to refer to a spelling bee, it's because "bee" at the time meant something in the sense of "meeting" or "reunion." It first appeared in this sense in the mid-18th century, referring to people who come together to do some work, such as building a barn or something similar. When the first known spelling bee was made, there were also: apple bees (which is also where the restaurant chain got its name), barn bees, sewing bees, corn husk bees, and lynching bees, among others. It was customary in these bees for everyone to get together to perform any task, and then have a party with snacks.
Regarding our Summerhill School, the Spelling Bee contest has existed for many years. In all Spelling Contests students must follow certain rules so they keep advancing from one round to another. The rules are simple: Firstly, students mas mention the word, secondly, they have to say how many words are there in the word chosen by the teacher, then they spell the word and finally, the repeat the word at the very end. While they keep advancing to the next rounds, the level of difficulty increases since they are asked to conjugate the verb a specific tense suggested by the teacher, or they are asked to express the word's meaning. This contest motivates and encourages students to participate and why not, winning it.
The second Spelling Bee Contest of 2021 was held on August 17th and as an eighth-grade teacher I'll take the liberty to congratulate all our participants, and especially our winners, who had to go through several rounds with a certain level of difficulty to be crowned champions of each one of their courses.
We as teachers hope that this extremely important activity continues to motivate students to enrich their jargon and spelling in the best way possible to help them gain the best of English as a second language.
A special mention to:
LEVEL I
PKA Miguel Ángel Rivera Sanjuan and Julián Camilo Suárez Delgado
KA Antonia Galán
KB Lucas Bautista
KC Isabella Díaz
TrA Mariana Cortés
TrB Samuel López López
TrC Valentina Buitrago fandiño
TrD Veronica Mora
TrE Silvestre Roso Rojas
1A Valeria Isaza
1B Andrey Torres
1C Gabriela Martin
1D Sofía Silva
1E Valentina Monroy
1F Samuel Pérez
1G Martin Guerrero
1H Esteban Salinas
LEVEL II
2A Juan Andrés Aranda – Isabela lopera
2B Cristian conde – Jerónimo arenas
2C Jorge Ávila – Mariana Rodríguez
2D Juan Andrés cepeda – Jerónimo cuesta
2E Sebastián Pineda
2F Esteban Mora
2G Victoria Puentes
2H Helen Rivera
2I Santiago Morales
3A Pablo Castro
3B María Palmezano
3C Santiago Hernández
3D Amelia Guevara
3E Cesar Aldana
LEVEL III
4A Julián Amaya
4B Jerónimo Sánchez
4C Isabella Guaqueta
4D Alejandra Garzón
4E Santiago Rincón
4F juan Pablo velandia Moreno
4G Carlos Contreras linares
4H salome Fonseca Betancourt
4I Esteban Acuña peña
5A Juliana Borbón – Guillermo Molina
5B Juanita manosalva
5C sara Escobar – Roció arias
5D María José torres
5E  Laura Bermúdez – Samuel Fonseca
5F Samuel Ciceros
5G Juan José García
5H Samuel Otavo Peña
5I Violeta Ramírez
5J Luciana Cobos
LEVEL IV
6A Andres Quintero
6B Isabella Gómez
6C Juan Sebastián Ríos
6D Valeria González
6E María Paula Rodríguez
6F Mariana Paiva
6G David Cortés
6H Nicolle Rosero
6I Isabella Pinzón
6J Isabella Cruz
6K Edwin Uribe
7E Juana Pradilla
7F Juan Felipe Fernández
7G Nataly Gómez
7H Salomé Obando
7I Thomás Peña
7J Nicolle Pinilla
7K María Paula Tellez
7L Sebastian Rojas
7M Isabella Rojas
LEVEL V
8A Laura Salgado
8B Juanita Ardila
8C Gabriela Virgüez
8D Gabriela Gutiérrez
8E Juliana Bohórquez
8F Alejandro Pineda
8G Juan Felipe González
8H Laura Muñoz
8I María Paula Duque
8J Julio Castañeda
8K Gabriel Camargo
8L Santiago Silva
9A María Alejandra Rondón
9B María Alejandra Díaz
9C Andrés Riaño
LEVEL VI
10D Ashley Martinez
10E Juan Felipe Arias
10F Diana Tibavija
10G Paula Chapetón
10H David Rico
10I Isabel Rincón